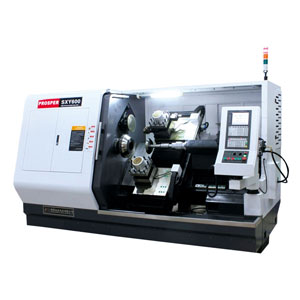 This series of machines are characterized by their highly efficient and cost-effective benefits they can provide. The spinning process technology can produce various shapes of products, such as in shapes of cylinder, cone, parabola, trumpet and bullet. It not only produces in large quantity, but also carries out the trial-manufacture testing and completes the trimming and rolling of the edge and contraction and extrusion of the products.
The machine is suitable for processing of the aluminum alloy plate, copper plate, steel plate, stainless steel plate and many other materials.
PS-CNCSXY double roller symmetrical spinning series have been well received and highly praised by our customers ever since their introduce to the market for almost 30 years.There are over 3000 machines put into service.The application of these machines is in a wide range of industries.They can satisfy the requirments of spinning parts or products in the following industries:kitchenware,housewares,aotomobile,hardware,air conditioning,environmental,ventilation,chemical and so on,prosper perserves in upgrading our products in order to have them achieved the best performance.
---High strength cast machine body
---Computerized SIEMENS Numerical Control System
---Heave duty guide and ball screw
---High torgue/high speed spindle
---Material centering
---Tool offset
---Digital integrated hydraulic system
---Digital integrated lubrication system
---BA units
---Manipulator
---Prosper Spincad programming software
Applications:Lighting,kitchenware,packings Spinning of major diameter products Spinning of bog thickness material Spinning of products not achievable by human labor Substitution of drawing/reduction of cost Optional dual spindle to reduce mandrel cost Excellent cost...